So the kids worked REALLY hard on all their Classmates Valentines....The final result....55+ adorable Monkey Valentines that they will get to pass out tomorrow!!
Stamped with Hero Arts stamps...The Valentines say..."Just Swingin' by to say...Happy Valentines Day!!" With of course Banana Head & Little Red Heart Candy!! Here's the little One I made...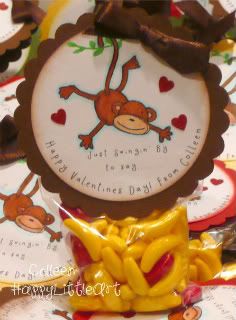 Of course with all the "Monkeying" around...it super late and and the pictures are a bit off and....well...so am I. I think they did a great job and I hope you like them....Thanks for "Swinging" by!!