The rain stopped for a min. this afternoon so I was able to get a photo of this cute card I made. Stamped with a High Hopes stamp and colored with Copics this little peep will make a perfect Easter card for someone special!!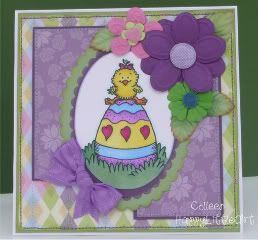 Cards are a wonderful way to use up those scraps of Delicious paper that you couldnt possibly just throw away!! I love that!!
Thanks for takin' a peep!! =:O)
Edited to add: This card has been sold. Thank You!