So...I'm the "Cookie Mom" for my Daughters Brownie troop and this past weekend, we picked up ALL the cases and cases of cookies that our troop sold...My living room had a zillion cookies in it!! These of course being my favorite....
Part of the girls earning one of the patches for selling all these cookies was that they needed to make Thank You notes to give to the Customers...My Daughters both decided they wanted to stamp something...I found the PERFECT stamps from Amuse. The girls have worked on a few each night and will continue until they make enough for each person that bought from them!! I'm glad they are doing all the coloring!! =:O)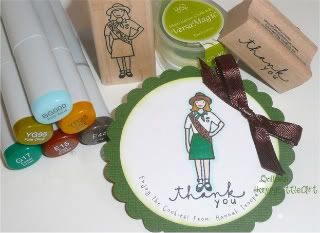 Thanks for stopping by and don't forget the milk!!