Hi There!! I made this card today using a Penny Black stamp...I love their stamps..so cute!! I pop dotted several of the hearts and of course it sparkles but that is not captured in the pictures!! I like making cards that can be used for several different occasions. This card will be on eBay in a few days.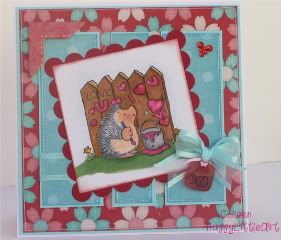 This card is perfect for
SCS New Years Eve Challenge
. Fun Stuff!! Tonight as you celebrate the passing of last year and begining of a New Year, remember the ones you Love!! I hope everyones New Year is full of Health, Wealth and Happiness!! Thanks for Looking!!
Edited to Add: This Card is Sold!! Thank You!