Hello!! I decided to try doing an 8 x 8 page layout. I've never done one before but I have to say they are really fun to do. They don't take as long as a 12x12 layout which means you feel like you've accomplished something quicker! This is my first attempt...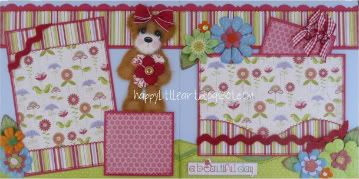 I can understand why people would like this size album..its handy, compact and really cute!! I used the rest of My Minds Eye paper that I had, from the card I made a few days ago, which is a great way to use perfect leftover paper. The tear bear, made of mulberry paper, sets it off quite cute, I think!!
Wednesdays are always short school days for my kids, they get out early, so I'm off to do chores and such before its time to go get them!!
Enjoy your Wednesday and Thanks for stopping by!!!