I made this sweet little cocoa pocket today!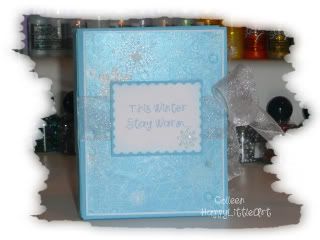 It was super easy to do, I found simple directions on the internet for a similar one and then added my own twist!! It says: "Stay Warm, This Winter" on the inside it says: "Inside and Out!" Would be a perfect "little happy" to leave on a co-workers desk or in the mailbox for a freezing mailperson!! =:O) I used bazzill cardstock and Heidi Grace Design paper. The only problem...its really cloudy and dark out today and even with lights and flashes, I couldnt get the pictures to turn out right! =:O( I will certainly have to work on that!
Hope you have a Warm evening!!
This item has been sold!! Thanks!