I've been so busy, not to mention, sick with a bad cold this past couple of days..(okay week or so)! I havent been able to finish anything. Finally, yesterday, I finished this scrapbook page and I will be listing tonight on ebay!! It turned out pretty cute, I think!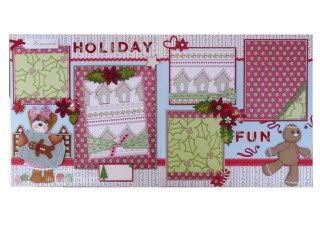 I used the paper from Heidi Grace Designs, Jolly & Bright line!! Mixed in with some Doodlebug & Bazzil cardstock, Prima Christmas flowers, Martha Stewart Lettering & Gingerbread felts. I loved making the Gingerbread Girl!! I think I may try to make a few more of those as they were super fun!!!!
Enjoy and Have a Great Day!!!
This item is Sold!! Thanks!!