Wow hard to believe a week passed with no new art!!! Ugh...I'm almost finished and I wanted to show you a sneak peek of what Im working on...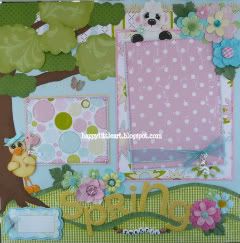 The weather has been so beautiful lately I couldnt resist a Spring/Easter layout!!This two page layout titled "Spring Sweetie" will be completed by tomorrow and on eBay tomorrow evening...so you can see both pages up close there!!
Thanks for stopping by and don't forget to stop & smell the flowers!! =:O)
Edited to add: This layout is sold. Thank You.