So I actually made this card on Sat. using the sketch over on the
Penny Black Saturday Challenge
blog. It was my first time doing a sketch from there and it was fun!!!It was from 2 weeks ago but those challenges never get "old" so you can do them anytime....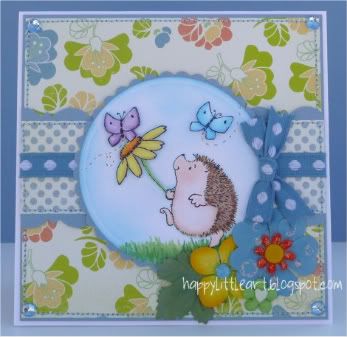 I used the Penny Black "Companion" stamp and did the flower twice and added another butterfly, both pop dotted, to add a little more fun! The paper (which is very "springy")and ribbon are from Making Memories, Prima flowers and stickles along with various brads and gems finish up the card. This card will be on eBay tomorrow so if you want, you can see the inside there. Thanks for taking a peek!!
Have a Happy Day!!
Edited to add: This card has been sold. Thank You!