I love the
Friday Sketchers
blog and often think...I want to do that but then something comes up or I forget, well this week, I decided to just do it!!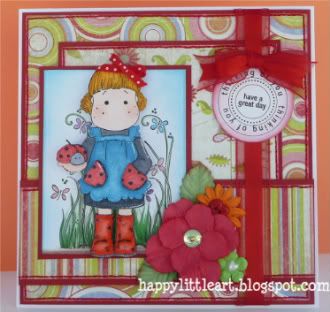 The paper is My Minds Eye and I love the whole line!! I used the new Spring 2009 Magnolia stamps which are super cute and I pop dotted her off the card then I pop dotted her pockets and the cute ladybug! Her rubber boots I glazed to make them look shiny! I downloaded the circle sentiment that I think looks perfect on this card! Finished with a little ribbon, some Primas and a tiny bit of bling!
The weather is perfect today!! Spring is here!! Enjoy your weekend!!
Edited to add: This card has been sold. Thank You!