These "Wrapped up all pretty" Hershey bars, I saw in a magazine and thought...I have to make those! They turned out so cute and are relatively easy to make!! Would be perfect to use up your scrap paper stash!! I think they are so fun to make...okay and eat!!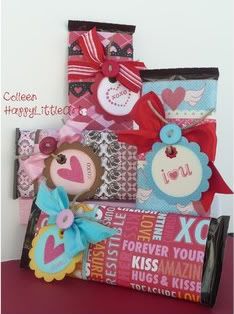 Paper, Ribbon, Hemp Twine, Buttons, Circle Punch and Scalloped Circle Punch, eyelets and any rubber stamps or even stickers make these a fun project to make!! My daughter thinks we should "for sure" make this for her class!! Looks like I need some more Chocolate bars!!!!
Thanks for Looking!!