Hello!! I'm feeling the Valentine bug....so today I made this card using this adorable Impression Obsession Valentine's Margarita stamp!!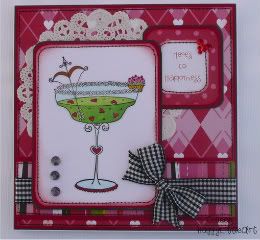 Lots of layers!! I used Creative Imaginations paper, Ribbon, Dew Drops. Colored with Copic Sketch markers. It was sewn, inside and out. The inside of the card is just a fun as the outside and says "Happy Valentine's Day!!" This card will be on eBay next week, so if you pop over there, you will be able to see all the pictures. Thanks for looking, now go Create!!
Edited to add: This item is sold! Thank you!!