I made this cute Tear Bear scrapbook set today!! Complete with a paper pieced Skunk for a Lil' Stinker!! For being so small, that Skunk took quite a while!!
The set is good for any occasion but definitely girly!! The Tear Bear is made using torn Mulberry Paper!! I used Bazzill card stock and the paper line is Imaginisce, Loves Me! Who could forget the Prima flowers and a little Stickles!!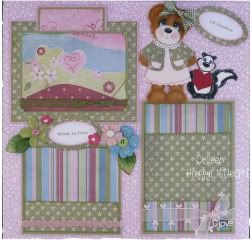 This set will be listed on eBay tonight!! Thanks for taking a moment out of your day to stop by here! I love all your happy comments!!
Edited to add: This item is Sold. Thank You!!