Happy Father's Day to all the Dad's out there! While my own Dad has passed away he was thought of today! We had a great day today. Friends called this morning and invited us to go the local Water Park with them, we went and had a great time! The girls enjoyed going down the slides with their Dads and we enjoyed the Lazy River. The water was freezing but well worth the fun. We then headed over to a BBQ, with yummy foods and good company! My Husband had a great Father's Day!!
I rushed last night to make him this card. The Super Man/Moose Riley stamp was Perfect for how I feel about my Honey! I used Basic Grey paper, Hero Art stamp. Copic Markers and Dew Drops and I forgot who made the pins!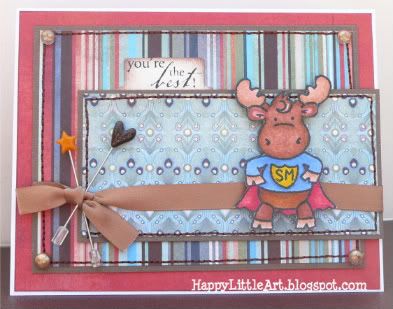 While I did rush and its a small card and the picture is horrible, I think it turned out pretty cute, yes it's a little off but...when he opened it, he said.."You made ME a card" and told me he loved it!! Awwwwwwww....and isnt that what its all about?!!
I hope your day was Special too!! Have a nice night!!! Thanks for taking a peek!