I made this cute scrapbook embellishment set today...this is one of my favorite poems. Whenever I see dirty fingerprints on the wall, I think about this!! You put your child's fingerprints in the little flowers!! Too Cute!! I have a boy one too, I'm almost finished. I just need to finish with the tear bear, which of course, takes me forever!!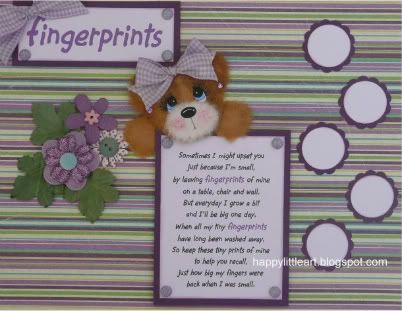 Here is a closer look at the adorable poem:
I need to get something done for Teacher Appreciation Week which is this week, I've got a great idea for a little garden bucket...now I just need to get it together! If I don't get it done soon, I will end up giving it to the Teachers at the end of the year, which I can't believe is only a month away!!!!
I'll be back later to "bug" you...hahaha...